Jules Toebben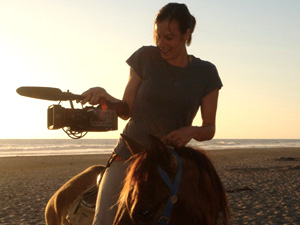 Julia Friederike Toebben was born on 03/12/1977 in Berlin. She prefers to be called Jules.
Filmography

Shortfilms:

2000
I WAS A COWBOY
format:
Beta Cam
duration:
3 min.
genre:
Shortfilm
2001
WAITING FOR JENNY
format:
DV
duration:
4 min. 30 sek.
genre:
Shortfilm
2002
BECOMING COWBOYS
format:
DV
duration:
5 min.
genre:
Shortfilm

Musicvideo:

2005
RICHARD RUIN FEAT. THE TEASERETTES
title:
"Low"
duration:
4 min. 11 sec.

Documentries for educational purposes, distributed in European schools:

2004
GOVERNING BERLIN
format:
Digi Beta
duration:
31 min.
Synopsis:
Four of the youngest members of the German parliament are followed during their work for two days.
2003
THE SHADOW OF THE WALL
format:
Digi Beta
duration:
28 min.
Synopsis:

Berlin was lying in the shadow of the wall for 28 years. The film starts with the termination of the Second World War and points out the situation of Eastberlin, showing historical moments. The most important events until 1989 are shown and commented in the film.

In the cold war, when Westberlin was occupied by the western allies and Eastberlin by the Sovjets, one can see that there was a high tension between the two victorious powers. This was the reason for problems in the process of approach, because the clock was always set five to twelve.

After the wall came down, again Berlin was in spotlight becoming a city of economical relevance.

Art Portraits:

2004-2006
Exhibitions of Damien Hirst
format:
DV
duration:
28 min.
Synopsis:
The film shows Exhibitions of Damien Hirst in Naples, New York City and Mexico City, including comments by the artist himself, as well as from his employees. The setting up of an exhibition plays a major role.
2001
A Metropolis and a Wall
format:
Digi Beta
duration:
28 min.
Synopsis:
Alongside the former central borderline of Westberlin, the film shows in flashbacks what was behind the sights of today. Since the erection of the wall the film is telling the historical incidents from the point of view of a walled-in city, Westberlin.